This week, we shipped some of our most exciting features thanks to our formidable engineering team. Let's take a look!
Introducing Lapsed Options Management
Admins can now mark grants as lapsed for terminated employees post their expiry without the EquityList team's assistance!
You can also track upcoming expiry for terminated employees due to time-based or event-based expiries (ie - board approval, not participating in a liquidation event, etc) and lapse the vested units that haven't been exercised.
Lapsed units go back into the pool and the active grant gets canceled
Employees now get an email when marked 'terminated', listing all their active grants and their corresponding expiry period
Upon 'lapsing' of units by a company admin, all the admins get notified along with the employee with an intimation of the same
Note: the platform will not automatically lapse units unless approved by an admin.
Introducing ESOP Expense Report
Startups managing their ESOPs on EquityList can now directly download ESOP Expense Reports following the graded-vesting method.
Equity Grants --> Report --> ESOP Expense ReportsStartups registered in India should comply with Indian Accounting Standard 102 (IndAS 102) to report ESOP expenses as recommended by the Institute of Chartered Accountants of India (ICAI). IndAS 102 establishes uniform accounting principles and practices for all types of share-based payments toward employees and non-employees for Indian companies.
As options/shares are usually granted to employees across a graded vesting schedule, this report needs to account for the cost incurred by the company for each vesting group.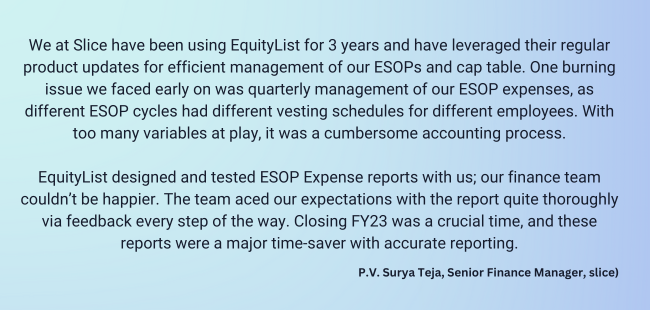 Exercise Period prompt when terminating an employee
When terminating an employee, the platform will prompt you to add the exercise period if you haven't set one by default. You can add an Exercise Period on both the scheme level and on a grant-by-grant basis in case of any exceptions.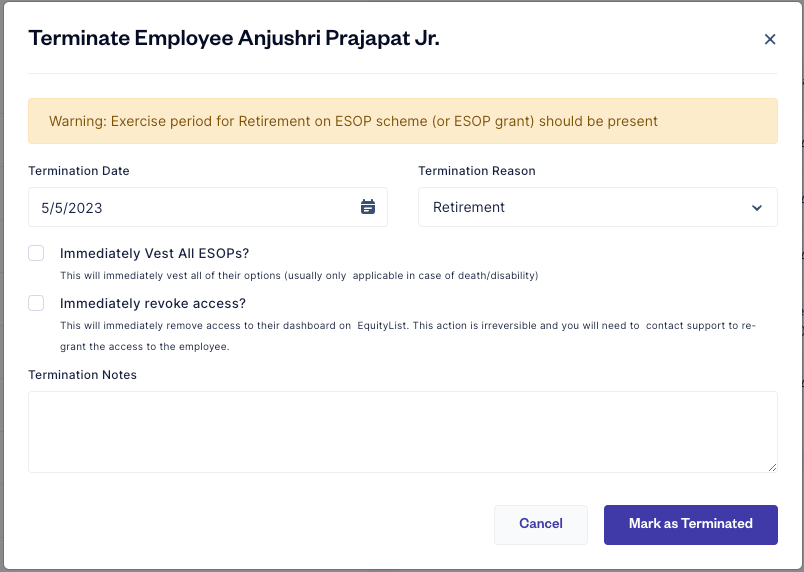 Supporting upto 6 decimal places for CCPS: Equity ratio

CCPS is a type of preferred share/stock that gives holders the option to convert their preference shares into a fixed number of equity shares of the issuing company after a specified date.
You can now add up to 6 decimal places for CCPS:Equity ratio when setting up a new share class.
Stay tuned for more!