We are proud to have powered Shipsy's maiden ESOP buyback program through our platform. The company introduced its first buyback program for employees who have completed at least one year of full-time employment.
Shipsy is a SaaS-based logistics management platform with a presence across India, Middle East, and Southeast Asia and backed by investors such as A91 Partners, Z3 Partners, Info Edge, and Sequoia Capital India's Surge. You can learn more from their press coverage here.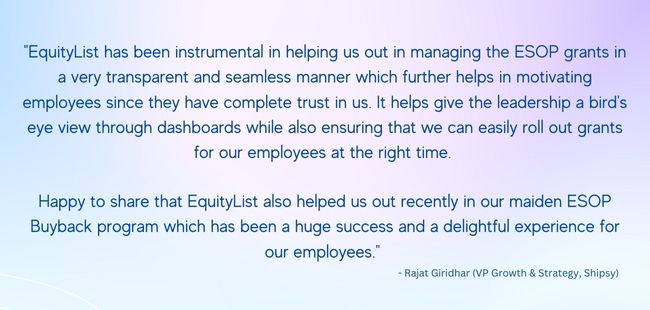 An ESOP buyback is a liquidity event triggered by the company for their qualified employees, allowing them to sell their vested shares and generate wealth. A buyback program is usually created with a specific set of eligibility criteria based on which the vested shares can be sold:
maximum shares per grant/employee
maximum percentage grant/employee
maximum effective value of shares per employee, amongst others.
Companies can use EquityList to seamlessly set up their buyback programs with decided eligibility criteria to invite qualified employees and manage their participation.
Startups registered across India, Singapore and US can administer and manage their cap tables and ESOPs on EquityList. Fill out your contact and company information below to schedule a demo call with our onboarding team.